Careers

Welcome to the St Columbanus' College Careers Department. In this section you will find careers information for all year groups and parents. We endeavour to ensure that you have all the information you need to make an informed decision.
Careers Education is a continuous process and an important element of the College curriculum. Through the Careers Education, Information Advice and Guidance programme, students work on self-assessment exercises which look at their ability, personality, interests and opportunities. This allows pupils to make informed choices in Years 10,12 and 14 and ultimately to make the transition from leaving school to full-time employment, Apprenticeships, Further or Higher Education or some other pathway suitable to their strengths and aspirations.
People don't choose their careers; they are engulfed by them.

John Dos Passos
Everyone should experience defeat at least once during their career. You will learn from it.

Lou Holtz
To be successful, the first thing to do is to fall in love with your work."

Sister Mary Lauretta
CAREERS ACROSS THE CURRICULUM
This year in the college, we are focusing on raising awareness across a variety of sectors and a range of career pathways. We aim to do this by highlighting different career roles and pathways each month. We are beginning this initiative by looking at the role of the Uniformed Public Services including the Emergency Services and the Armed Services.
Students in Years 8 – 10 will have the opportunity to explore these pathways during their timetabled Employability classes, while Senior pupils will be able to gather information at the Uniformed Public Services Careers Fair on 20th October in our Assembly Hall. They will also have access to a range of relevant materials on their specific Year Group Careers Google Classrooms.
November is when we focus on the public sector (non-uniformed) and the voluntary services. Please have a look at the information uploaded and explore the range of pathways and opportunities available.
The following links will also lead to relevant careers information.
Emergency Services
https://www.healthcareers.nhs.uk/
Armed Services
https://www.army.mod.uk/careers/
https://www.royalnavy.mod.uk/careers
https://recruitment.raf.mod.uk/
Other Uniformed Public Services
https://www.justice-ni.gov.uk/
https://www.belfast-harbour.co.uk/
https://www.gov.uk/government/
https://nationalcareers.service.gov.uk/
DECEMBER – FOCUS ON THE CREATIVE INDUSTRIES & ENTERPRISE
"Northern Ireland is home to a wide range of creative arts and industries. From first-rate film and television productions, such as Game of Thrones, Derry Girls and the Line of Duty, to the thriving digital games sector - the creative industries play a big role in the economic development and growth of the region.
Locally, almost 30,000 people work in creative industries or occupations. This represents 3.4 per cent of the workforce. Since creative industries rely on individual creativity, skill and talent, they have the potential to:
create capital and jobs
develop intellectual property
advance the way other business sectors innovate and compete
enhance Northern Ireland's profile on the world stage"
https://www.nibusinessinfo.co.uk/content/creative-industries-northern-ireland
The attached pages with links to a variety of opportunities within the creative industries and business enterprise are well worth exploring. In the meantime, here is a glimpse at some of the activities that have taken place or will be taking place in the college.
Miss Ward has been very busy with her Drama Club and has also been very pro-active in raising awareness of career pathways within the creative industries. She has created the following opportunities and we thank her for organising these.
On 07th December the Drama Club pupils performed two scripts. 'Beauty IS a Beast' and 'Peter and the Wolf'. We invited other creative subjects to join us as we team together to highlight all the skills and people that go into a seemingly simple production. Such roles include actors, musicians, directors, costume designers, prop makers, sound and lighting support, photography and filmography.
Visitors:
On 12th December (today) the Year 10s will have the opportunity to hear from different people who work in the Creative Industry. Students will have the chance to hear first-hand stories, see work projects and ask questions. We will have representatives from the theatre industry, music industry and product design industry.
As the Year 10s think about GCSE subject selection, it is vital they are open to learning about all the job areas out there!
This is a growth sector, and this is the month dedicated to researching those pathways!
ENTERPRISE AND ENTREPRENEURSHIP
Some of our Year 14 students have created their own company and had a fantastic time at their first Trade Fair in St George's Market on 7th December.
They have settled on a product to reduce the risk of having your drink spiked when out with friends. They have created their slogan:
Be safe, be smart, be sure!
Rosources for Careers across the curriculum - focus on...
Creative industries:
https://discovercreative.careers/teachers-career-leaders/further-careers-information/
https://discovercreative.careers/#/?search=&context=careers&tags=&filters=
https://www.screenskills.com/information-and-resources/?q=&subjects=&industries=&types=&careerStages=&pageIndex=1
https://youtu.be/qkMjO6PcfZM (how to be a radio producer)
https://youtu.be/hzXaFFV2asQ radio producer
https://youtu.be/vNKXk0QeRvg the beautiful world of creative industries
https://youtu.be/VGjyzxz0S8w animation industry Ireland
https://youtu.be/ArnhItrVuFM creativity pays
https://youtu.be/0hzbs6jqb9s careers in the creative industry
https://youtu.be/77kHUQTsghQ working in a creative advertising agency
https://youtu.be/BeOvJLRsR20 choosing career – advertising
https://youtu.be/rpTA_4X2lXI film crew roles explained
https://www.screenskills.com/ screen skills website
https://www.northernirelandscreen.co.uk/skills/creative-skillset/
https://getintotheatre.org/blog/complete-list-of-jobs-in-theatre-industry
https://targetcareers.co.uk/career-sectors/arts-and-creative/1015387-careers-in-theatre
http://andrewlloydwebberfoundation.com/get-into-theatre
https://lyrictheatre.co.uk/creative-learning
https://targetcareers.co.uk/career-sectors/arts-and-creative/894045-careers-in-art-and-design
https://www.prospects.ac.uk/job-profiles/architect
https://dribbble.com/resources/types-of-graphic-design
https://www.indeed.com/career-advice/finding-a-job/work-in-publishing
https://intranet.birmingham.ac.uk/as/employability/careers/resources/cal/heritage.aspx
https://uk.indeed.com/Heritage-jobs-in-Northern-Ireland?vjk=0ec3b37ffdb0a78d – some heritage jobs in NI
https://www.prospects.ac.uk/jobs-and-work-experience/job-sectors/creative-arts-and-design/how-to-get-into-museum-conservation
https://www.prospects.ac.uk/case-studies/director-digital-archaeologist-bethany-watrous
https://www.planitplus.net/CareerAreas/View/20 - performing arts careers, dance. Music Technology, etc
https://www.ukmusic.org/wp-content/uploads/2021/05/UK_Music_Careers_Information_Pack_2020.pdf
https://www.murdoch.edu.au/news/series/series-articles/future-in-technology/have-you-thought-about-these-eight-careers-in-gaming
Business Studies – Innovation and Enterprise
https://www.careerpilot.org.uk/job-sectors/subject/business-studies
https://www.prospects.ac.uk/careers-advice/what-can-i-do-with-my-degree/business-management
https://targetjobs.co.uk/careers-advice/career-ideas/what-else-can-i-do-business-studies-or-economics-degree
https://gradireland.com/careers-advice/career-ideas/what-can-i-do-business-degree
https://www.coursera.org/articles/what-can-you-do-with-business-degree
https://www.coventry.ac.uk/london/course-structure/pg/msc-enterprise-and-innovation/
https://www.moneyhelper.org.uk/en/work/self-employment/thinking-of-starting-up-in-business
https://www.young-enterprise.org.uk/teachers-hub/enterprise-education/enterprise-programmes/
http://www.get2test.net/ - how enterprising are you?
https://eship.ox.ac.uk/what-does-it-mean-to-be-enterprising/
Careers Information
St.Columbanus' College has a progressive CEIAG programme from KS3 up to Sixth form. The Careers Department also uses expert support from the Northern Ireland Careers Service, F.E. Colleges and Universities, local businesses and parents to enrich provision.
Key Stage 3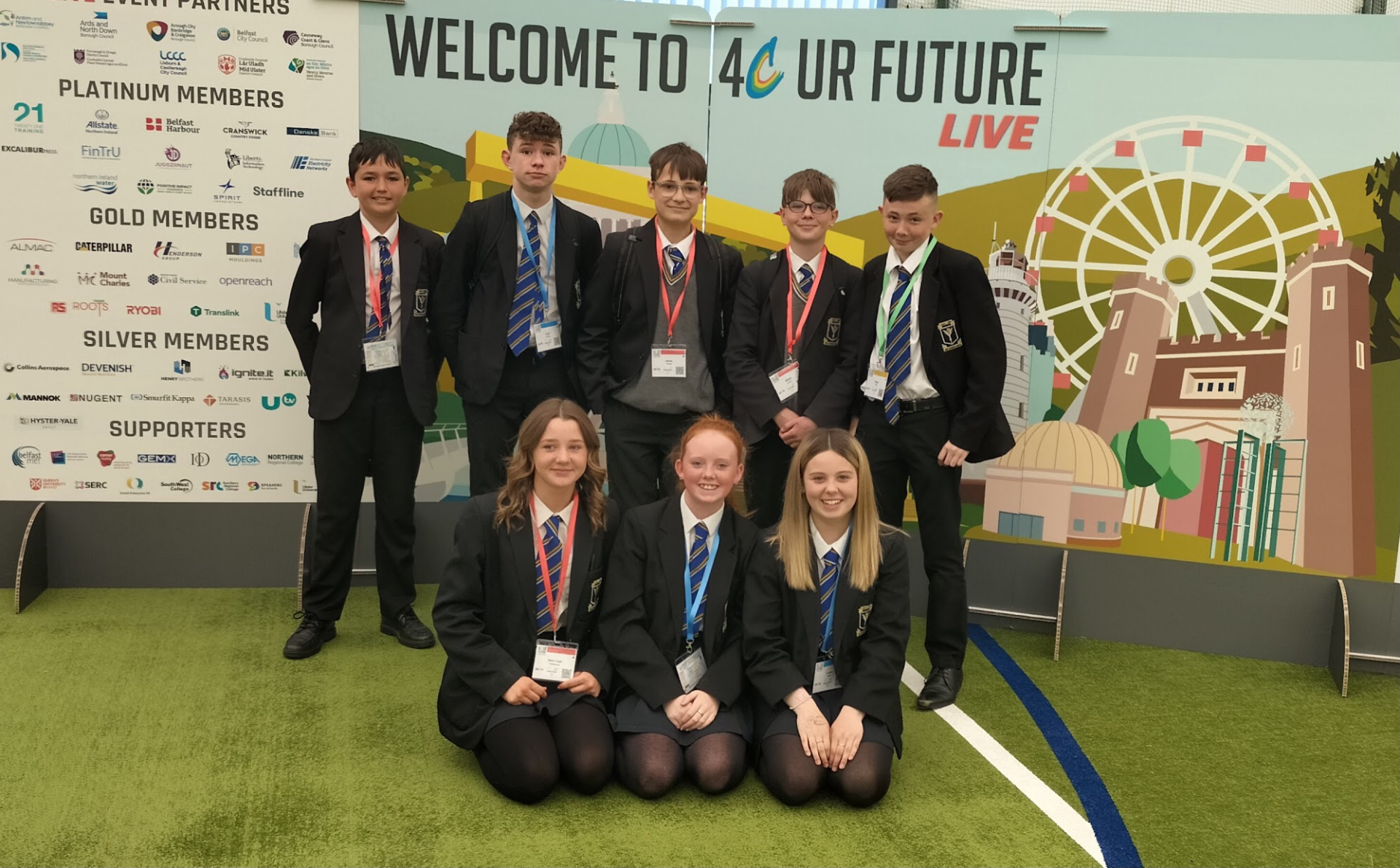 Years 8-10
Personal Career Planning Process is at the heart of the junior school programme. Pupils evaluate themselves through self-assessment exercises and by the end of the process, should be aware of their strengths and weaknesses. Students participate in Young Enterprise programmes including: "Step Up" and "Blast Off", which aim to promote enterprise through hands-on learning experiences. A decision-making module is covered in Year 10 prior to subject choices. Impartial Careers advice is provided through our Careers Adviser and this information and guidance is shared with students and parents during the Year 10 Induction Day. Advice about choosing subjects for GCSE is also shared with students and parents through this website and also through the specific Google Classroom. Year 9 students also participated in an interactive event at the Blair Mayne Centre, 4C UR Future, which gave them an insight into the future world of work.
The best career advice given to the young is: Find out what you like doing best and get someone to pay you for doing it.
Click HERE to view the College's Careers Guidance for choosing GCSE options.
Other relevant sources of advice for choosing subjects:
https://www.nidirect.gov.uk/articles/subject-choices-year-10
https://www.nidirect.gov.uk/forms/year-10-subject-choices-quiz
General link to Careers A – Z
https://www.nidirect.gov.uk/services/career-z-list
Key Stage 4
Year 11
Action Planning Process – students build on the process of Personal Career Planning which commenced in Year 8. Students are given the opportunity to research potential career and job interests and relevant pathways being aware of the twin demands of the labour market and their own interests and level of skills. We will be exploring work related learning including virtual work opportunities and engagement activities with local employers and education providers. A module of Financial Capability will be included and students also participate in Young Enterprise. Students will start the year with a motivational presentation by Mr Pat Jamison, MBE, outlining the importance of learning for earning potential and future pathways.
Year 12
Students will start the year with a motivational presentation by Mr Pat Jamison, MBE, outlining the importance of learning for earning potential and future pathways.
All students have the opportunity to have an individual guidance interview with our Careers Adviser. This impartial guidance allows them to review their options carefully and make more informed decisions.

Advice on Post-16 choices and opportunities is provided and a range of information including virtual work experience, courses and applications to a variety of courses and schemes is made available to all students through the Year 12 Careers Google Classroom.
Link to Making choices at Year 12 Guidance booklet.
Post 16
Years 13 & 14
At Post 16, opportunities are given for students to consider future options and build upon skills and knowledge gained in Years 11 and 12. Additional time is devoted to preparation for options post 18 including Further Education, Higher Education (UCAS Process), Apprenticeships and the world of work. Students are encouraged to attend Careers Conventions and Careers Fairs such as The BGS Careers and Universities' Fair, 10th February 2023.
This year, we will also be welcoming the University Roadshow in September.
Information
Within the Careers Department we promote an interactive approach to developing skills and encouraging students to embrace life-long learning.
This is a forward-thinking department committed to forging a very strong link between the demands of the curriculum and the reality of the world of work. This link between learning and earning is enhanced through visiting speakers, enterprise workshops, cross curricular projects and work related learning. The range of activities we offer enables all our students to learn through work, learn about work and learn for work.
Enterprise education is vital to our future economic success. A can-do enterprise mind-set benefits the individual, be it in a work-related or social setting. Our collaboration with Young Enterprise ensures that all students develop awareness of innovation, risk and change, running a business, and budgeting. These workshops enhance employability skills such as team work, problem-solving and communication.
Year 13 and Year 14 students are expected to join their designated Google Classroom which provides information about career pathways and opportunities including virtual placements when available.
Click HERE to view the Parent's Options Booklet for KS5
Careers Staff
Parents may book an appointment with Mrs Gethin to discuss issues regarding careers and pathways. Currently, this may not be possible face-to-face but parents may arrange for Mrs Gethin to contact them by phone or e-mail if they have a query about pathways.
Our Head of Department, Mrs Gethin, is more than happy to meet with students to discuss their individual pathway.
The Head of Careers is assisted by Mrs Dempster and Ms Canavan with the support of our staff, and a Careers Adviser from the Northern Ireland Careers Service. There is a designated Careers Library within the main Library housing a range of careers literature. Web resources are signposted on departmental noticeboards and on Google Classrooms.
Head of Department
Mrs Gethin, B.A (Hons); PGCE(Distinction); CPD Careers Education, Information, Advice and Guidance.
It's not what you achieve, it's what you overcome. That's what defines your career.

Carlton Fisk
Related Links
Links that will help students and parents research options.
This is an excellent website targeted at younger people and written in an upbeat and appealing style. It provides up to date information and addresses many of your possible concerns.

https://www.nidirect.gov.uk/campaigns/11-19-your-learning-and-career-options

This is your local careers information site which you can use to explore job options, take quizzes, self-assessment activities and a host of other information about career opportunities.

https://www.jobsandcareersmag.com/articles/

This is an excellent site providing information about a range of careers. It provides insight into the skills required for selected jobs and is aimed at informing people about the range of tasks carried out on a day to day basis for a variety of career paths. You can also access video clips on you tube.

This website provides insight into a variety of careers and also gives good advice about keeping options open and preparing for future jobs which have yet to be created! Includes the BUZZ quiz.

https://www.stem.org.uk/stem-careers

Information about opportunities for students studying Science, Technology, Engineering and Maths.

https://successatschool.org/careerzones

Explore a variety of career zones to find out about the different jobs available and the different ways you can get there!

This is the website for information concerning university applications and entry requirements.

https://www.nidirect.gov.uk/services/career-z-list

Careers information about a range of job opportunities and pathways.

https://www.nidirect.gov.uk/campaigns/apprenticeships

Information to allow you to start exploring apprenticeships.

https://www.youthemployment.org.uk/careers-hub/

Opportunity to explore options and match these to your skills and interests

Brilliant resources for exploring options and creating your unique career profile
You never stop earning when you do what you love.